For many organizations adjusting to the challenges of hybrid work culture, finding private office spaces for employees to work from is a major priority. However, finding private office space can be difficult, especially in busy coworking environments or for organizations with team members in various locations. By teaming up with The Square, you can find the private office space your team needs to collaborate in a focused and effective way. Our small private office space for rent gives teams of 1–10 specialized locations to host small meetings or have employees work without the daily distractions of a larger open-plan office environment. You can even rent executive office space designed to provide some of the more comfortable and productive office environments anyone can find.
With top-tier executive office amenities and a host of other lifestyle and comfort benefits, our private office space for rent is exactly what you need to take your organization to a whole new level.
What's Included?
Perfect for teams of 1-10
Customizable space
Meeting room credit packages
Secure, lockable space
24/7 access
Contact us today to secure your private office space and explore the many other benefits of teaming up with the experts at The Square.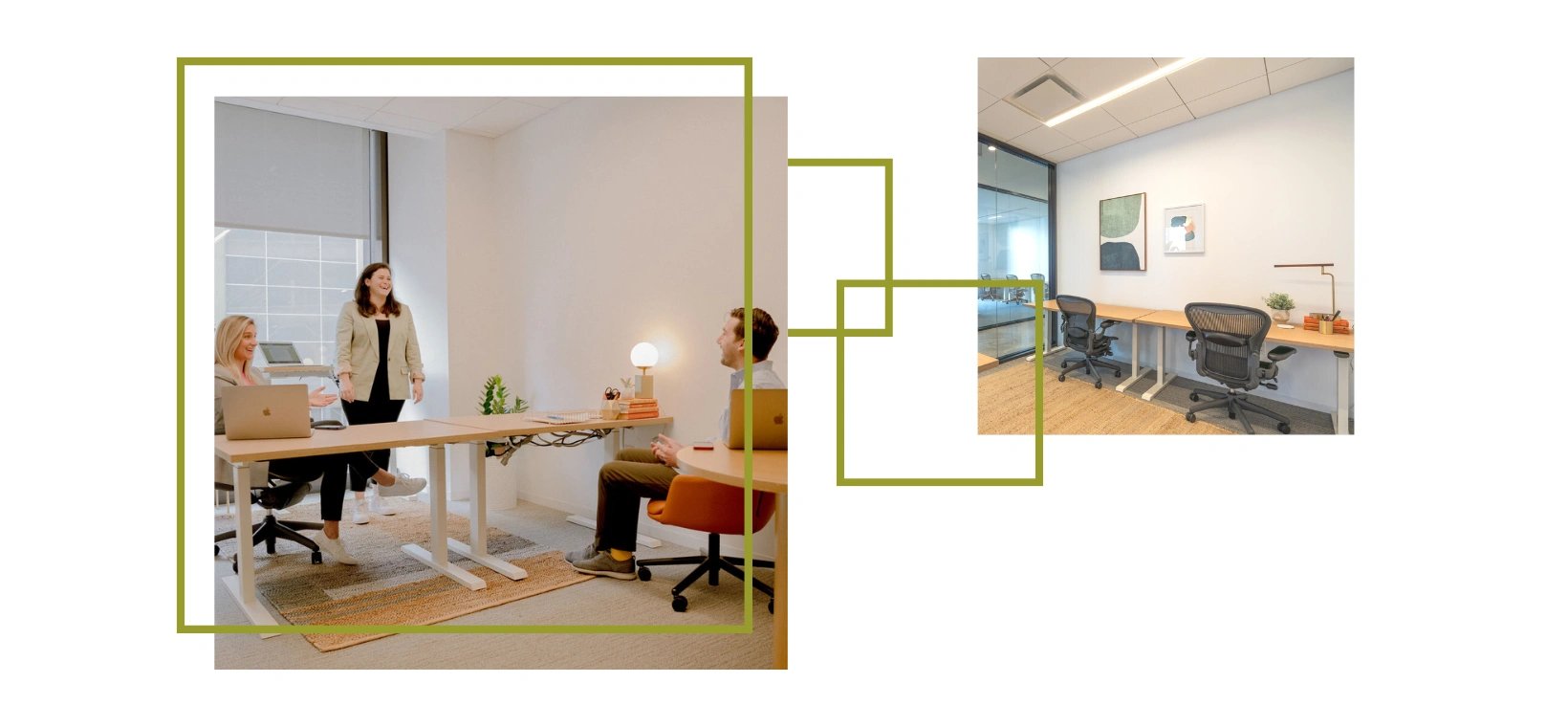 Private Office Space with Best In Class Amenities
Mother's and wellness rooms
Events programming
Furniture included
Daily breakfast, snacks and local coffee
Enhanced cleaning services
Enhanced HVAC standards
Unlimited printing
Fitness centers
On-site support teams
Event space
Private phone booths
Outdoor workspace
Enterprise-level network services
Mail and package service
Parking
There are several ways that a private office space can bring out the best in your employees. The most notable benefit of a private workplace is that it provides a comfortable environment for all employees. Private workpaces provide the perfect combination of the following factors:
Freedom
Privacy/Security
Relaxation
Every office location can benefit from teamwork, collaboration, and communication, but when the time comes to get work done, every employee can benefit from having an area where they feel secure, relaxed, and get their deep work done without any distractions during focus time and other critical times of the day.
Our secluded offices are also decorated with comfortable amenities and tools to give you a feeling that mimics working from home, but without the typical work-from-home distractions. Inquire about a private office for rent from The Square and enjoy the benefits of an elegant and personalized private office space.
Most people picturing an executive office suite may think of a formal office environment with gigantic luxury chairs and desks with oak paneling. However, today's executive office spaces are more modern and pride themselves on employee flexibility and personalization, whilst retaining the same luxury appearance and elegance in design that characterizes the classic executive office.
Our executive office suites are fully customizable, with access to kitchens, private meeting rooms, and luxury office appliances that redefine the meaning of a modern workplace. This complete customizability gives you access to our executive office amenities, designed to create the perfect work environment for any employee. Find your ideal executive offices for rent by contacting The Square today.
When you need to handle business in an isolated environment, The Square's private office space for rent provides the perfect combination of flexibility and security for your business and employees. Collaborate with our team to rent executive office space or find a private office building for personalized team meetings, client calls, or other important business decisions.
Best of all, our list of amenities ensures that your experience in our private office space is fruitful. With state-of-the-art technology, furniture, and so much more, our locations in Houston, TX, and Mexico City provide the ultimate solution for your business. Reach out to The Square today for a private workplace or executive office space that ensures business growth and simplifies operations for years to come.
More Than Just a Private Office for Rent
Our commitment to providing flexible and practical office solutions means you can turn to The Square for more than just executive office suites or small private office spaces for rent. We also provide a host of other solutions for your business, giving teams unique locations and structure that mimics an office space in ways like never before.
Check out additional offerings, including: