If you're looking for the perfect middle ground between small private offices and an enterprise suite, The Square's flex suites provide the perfect place for teams.With one of our flex suites your team can feel connected without removing access to privacy and security for specific tasks or employees. With locations in Houston, TX and Mexico City, our team is committed to growth while providing sites in some of the largest growing markets in the world.
Team up with The Square today to enjoy a high-quality flexible office space for rent that changes how your team does business.
What's Included?
Perfect for teams of 10-20
Customizable space
Meeting room credit packages
Secure, lockable space
24/7 access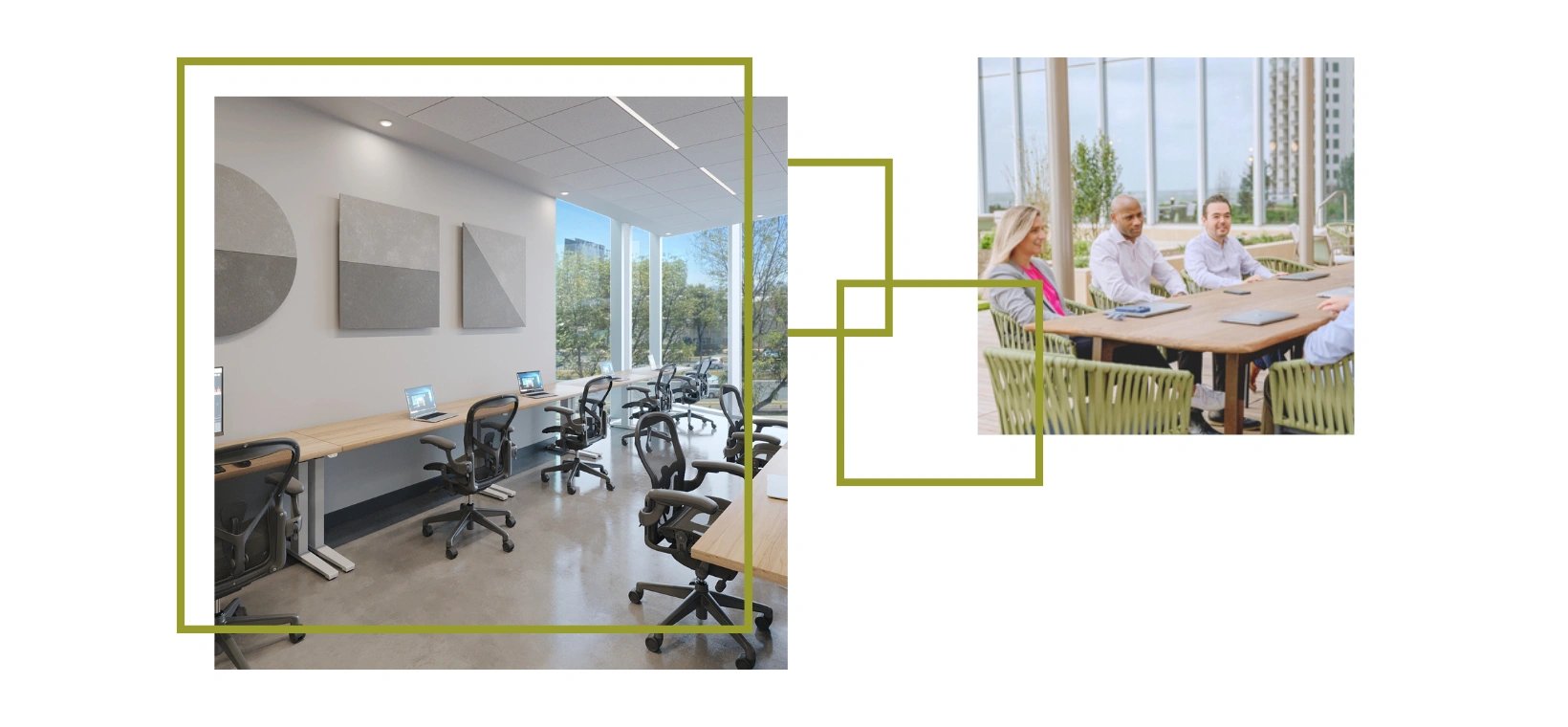 Flex Suites with Best In Class Amenities
When teaming up with The Square, your employees receive access to flex workspace options that provide an abundance of flexibility and options that suit all workers. Our amenities include some of the best features on the market and help differentiate our spaces from other flexible office spaces for rent.
Mother's and wellness rooms
Events programming
Furniture included
Daily breakfast, snacks and local coffee
Enhanced cleaning services
Enhanced HVAC standards
Unlimited printing
Fitness centers
On-site support teams
Event space
Private phone booths
Outdoor workspace
Enterprise-level network services
Mail and package service
Parking
A flex suite is the perfect blend of privacy and collaboration, giving your organization plenty of options to host meetings in large spaces or work for hours in more toned-down environments. Our flex workspace options allow Houston, TX, Salt Lake City, UT, and Mexico City workers to reinvent how they view the traditional office environment. Learn more about professional workspace rentals from The Square by contacting us today! Explore flexible rental options and secure the perfect combination of amenities and perks for your team!
Some of the world's biggest and brightest organizations are teaming up with locations like The Square to secure flex workspace options. A flexible workspace rental provides tons of benefits for team members in organizations large or small, mixing the perks of a large work environment with the privacy of a smaller location.
For larger organizations, teams can get a flex office space rental that allows them to collaborate without outside influence from different departments that don't relate to theirs. Team members also enjoy personalized and private benefits, meaning that higher-ups can be more in tune with the work of the team members they're responsible for. This ensures a more efficient work environment where employees can be productive without sacrificing teamwork or privacy.
Contact The Square today and experience immediate improvements to your team's productivity with one of our flex suites for rent.
More Than Just Flex Suites
At The Square, we take pride in having amenities and choices that appeal to business owners in as many industries as possible. We are more than just a leading provider of flex workspace options. Our selections include various office environments, rooms, and locations for daily tasks or complex and intricate office events and scenarios.
Check out our wide selection of office spaces and options available: