Traditional brick-and-mortar office space can't compete with the advantages of securing your team's very own flexible enterprise office space. These modern and spacious locations give organizations enough space to house massive teams and departments while ensuring groups aren't too far away from one another. With state-of-the-art amenities and a dedication to growth consummate with the advantages of technology, there's no reason you need to rent an enterprise office suite from anyone but The Square. Our locations in Houston, TX and Mexico City place your team in the heart of diverse communities and environments that grow alongside your team.
What's Included?
Perfect for teams of 20+
Fully customizable space
Private meeting rooms
Kitchenettes
24/7 access
Contact us today to secure your enterprise office space and explore the many other benefits of teaming up with the experts at The Square.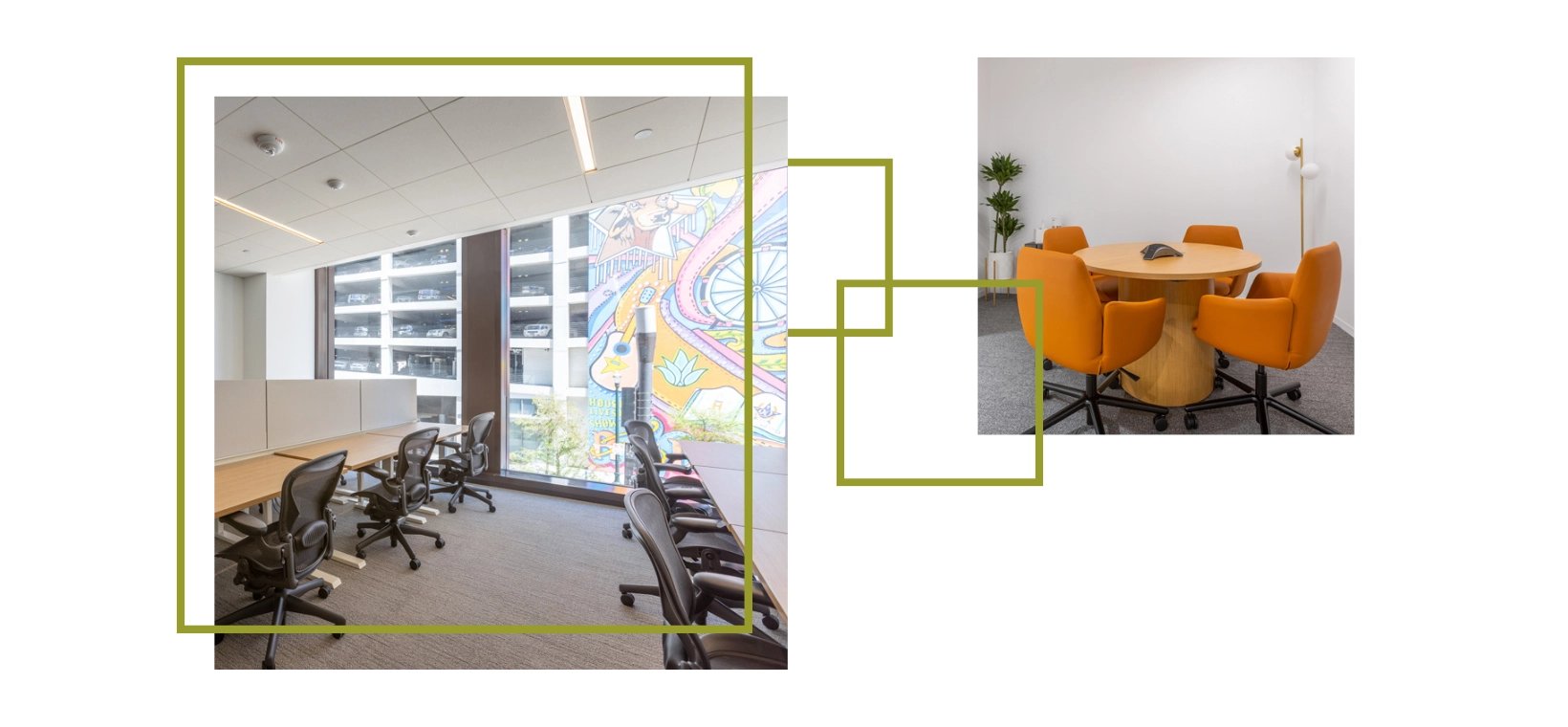 Market-Leading Enterprise Office Amenities
Unlike a traditional office, which may include one or two perks, our flexible office space solutions provide plenty of amenities and advantages that separate us from the competition. With everything from wellness rooms to mail and package services, our amenities are guaranteed to benefit everyone in your organization.
Mother's and wellness rooms
Events programming
Furniture included
Daily breakfast, snacks and local coffee
Enhanced cleaning services
Enhanced HVAC standards
Unlimited printing
Fitness centers
On-site support teams
Event space
Private phone booths
Outdoor workspace
Enterprise-level network services
Mail and package service
Parking
For many large organizations, connectivity and collaboration are the most prominent challenges managers and leaders face. In traditional office locations, it can be difficult to keep up with the organization's demands while helping your team feel comfortable and relaxed. Over time, things may get crowded, or resources may thin out as you try to accommodate the growing number of employees present.
Instead of forcing your team into one location, rent an enterprise office suite from The Square. Our flexible sites provide plenty of perks and benefits, including:
Open office locations
Collaborative spaces that help each individual stay productive
Various amenities that satisfy all needs
Diverse environments that help promote new ideas and growth
A lower-cost solution than a traditional office
If you want your company to reach new heights, take advantage of every opportunity that comes your way. At The Square, we rethink what it means to have a large and inclusive work environment. Contact us for more information on how to secure one of our enterprise offices for rent today!
It's never been easier to find a location that keeps your large team together as one. Whether you have 25 team-members or have a team of 100, The Square has the solution for you. With an abundance of enterprise offices for rent, you can enjoy complete customizability that provides access to private meeting rooms, amenity spaces, and so much more. Our offices in Houston, TX and Mexico City show that we're committed to placing you in dynamic, fast-growing areas that mimic your organization's potential. So power your evolution with enterprise office space from The Square and enjoy teamwork and growth like never before.
The workplace is ever-changing, so don't get left behind. Request info about your next enterprise space by filling out our contact form or speaking to one of our members today!
The Square – Beyond Enterprise Office Space
The Square provides office space for large groups, small groups, and everything in between. Whether you need a secure office to hold meetings or large conference rooms to announce company changes, celebrate milestones, or host new events, The Square has the perfect solution. Contact us today for enterprise office space and additional options, such as: