September 7, 2022
What Are the Benefits of a Coworking Space?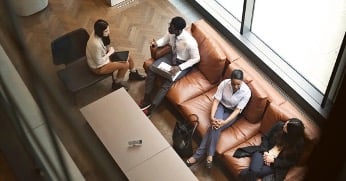 There's no doubt that the modern office environment is changing before our very eyes, partly due to changes caused by the COVID-19 pandemic. Many people now work from home, while others work hybrid schedules.
As "traditional offices" become less common, coworking spaces are on the rise. Coworking is a process in which multiple companies or small businesses share a space at different times, reducing the need for individual building rental and eliminating standard commercial leases. Coworking spaces are specific locations made especially for this purpose, such as 717 Texas Avenue and Texas Tower in Houston.
Thinking about changing your current work environment? Here are just a few of the benefits of coworking spaces.
Improved Productivity
Employee studies show time and time again that where people work matters — as in, the actual space itself. Because employees feel and act more motivated when they enjoy their surroundings, the right coworking space can significantly increase productivity. On the other hand, a negative environment (such as a stuffy traditional office or a hectic, loud call center) can decrease productivity.
Increased Creativity
When people work in flexible, adaptable spaces, they often find themselves becoming more creative in response. Even before the pandemic, a 2015 article by the Harvard Business Review highlighted the benefits of coworking. Multiple interviews revealed that people in coworking spaces often feel a boost of creativity compared to their peers in cubicles. The general takeaway from this article? "People who use coworking spaces see their work as meaningful."
Scheduling Adaptability
One of the best parts of a coworking space is that you can make a schedule that works for you and your company rather than worrying about a monthly lease. Of course, there's nothing wrong with booking a coworking space for a long-term arrangement. However, some companies, such as startups, local businesses, and more modern organizations, prefer to reevaluate their office space needs monthly or even weekly. We're happy to accommodate — and we think you'll find that the cost savings are quite significant compared to what you've been paying all these years!
Collaboration and Connection Opportunities
Coworking spaces promote a whole new level of social connections. Because you'll be sharing space with others in different industries and companies, you'll have the unique chance to meet new people who see the world in a different way. Of course, small business owners and mega CEOs alike need places to discuss confidential company information — which is why we offer completely private offices and conference rooms as well.
Multi-Use Spaces
No matter your industry, you can make adaptable coworking spaces work for you. Since coworking spaces are designed to be multi-use, you don't have to worry about getting what you need. It's all right at your fingertips! You can use a coworking space as a satellite base for remote workers, take advantage of our conference rooms to hold big networking events, or get some small group work done in our private rooms. The list goes on and on!
Convenient Locations
While we can't speak for other coworking spaces, we can say for sure one of the perks of OUR spaces is that they're conveniently located! Having your coworking space located in downtown Houston enables your team to get together in a central location, with access to public transportation, local destinations, and more. Working in such a fun and exciting city also encourages a better work-life balance when employees are off the clock.
Amazing Amenities
Corporate office amenities are a great way to get people excited to come to work, and our coworking spaces have the kinds of amenities you could only dream of! All of our coworking spaces offer the following perks:
On-site support teams

On-site community managers

Enterprise-level network services

Private meeting rooms

Private phone booths

Furniture included

Enhanced cleaning services

Enhanced HVAC standards

Mail and package services

Outdoor workspaces

Event space

Events programming

Unlimited printing

Daily breakfast, snacks, & coffee

On-site restaurants

On-site parking and bike storage

Fitness centers and wellness rooms

And much, much more!
Change What "Work" Means For You!
Change the way you work, and you'll change your life for the better. Discover what our coworking spaces can do for you and your company! Tour The Square today or contact us for more information.