For those seeking a blend of structure and community within a shared workspace, renting a dedicated desk at The Square could be the perfect solution. Whether you're looking for a dedicated desk in Houston, Washington DC or Mexico City, we'll uncover the advantages and considerations of this innovative office rental solution.
What is a Dedicated Desk?
A dedicated desk is a space that offers individuals the best of both worlds. It combines the freedom of coworking with the security and routine of a personal workspace. When you rent a desk, you gain access to a desk, chair, and filing cabinet that's exclusively yours, within a shared workspace of like-minded professionals, creating a sense of community and collaboration.
The Benefits of a Dedicated Desk:
Dedicated Workspace: With a dedicated desk, you enjoy the consistency of working at the same spot every day. Your desk becomes your home base, allowing you to personalize it to suit your preferences.
Storage Convenience: No need to lug your work essentials back and forth daily. Dedicated desks include lockable storage drawers where you can safely leave your belongings overnight.
Community and Networking: While you have your dedicated space, you're still part of a vibrant coworking community. This offers networking opportunities, access to conference rooms, and a shared kitchen, fostering collaboration and creativity.
Cost-Effective: Renting a dedicated desk is usually more cost-effective than making multiple daily or hourly bookings. It provides a predictable workspace for a fixed duration, which can be economical for businesses.
Peace of Mind: You never have to worry about finding an available desk. Your dedicated desk will be there when you need it, ensuring a stress-free work environment without the need to book space on a daily basis.
Privacy and Security: Dedicated desks are situated in a lockable, private office, offering additional privacy and security—ideal for those handling sensitive information.
Is a Dedicated Desk Right for You?
Whether a dedicated desk space is the right choice depends on your work style and needs:
Full-Time Project: If you're working on a single project full-time and prefer a consistent workspace, a dedicated desk is an excellent option.
Flexibility: If you prefer a more flexible approach to workspace, such as coming and going for shorter durations, a hot desk or traditional coworking arrangement may be more suitable.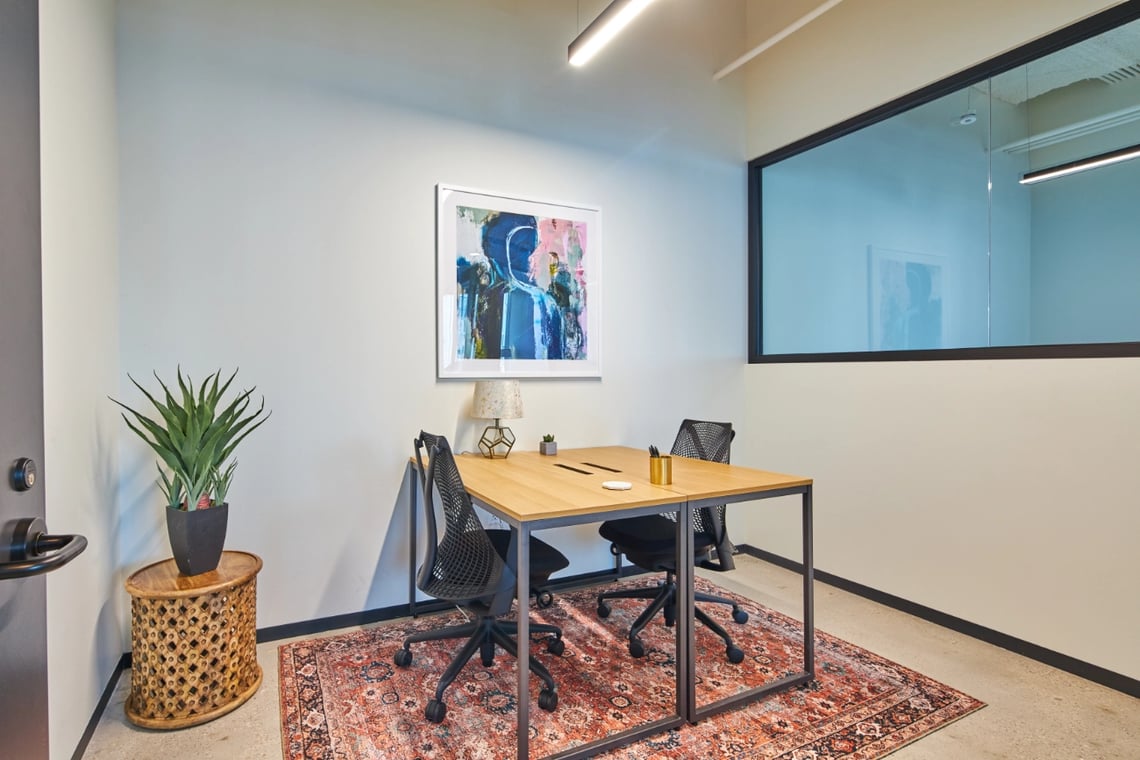 Frequency of Use: Assess how often you'll utilize the desk to determine if it's a cost-effective choice. If you plan to use it every workday, a dedicated desk may be a wise investment, ensuring a consistent workspace. However, if your work requires frequent travel or is more sporadic, it's worth considering whether the cost justifies the usage.
Privacy Preferences: Consider whether you need a dedicated desk in a separate area for enhanced privacy. Depending on your work, you may require a quiet, secluded space for concentration. In such cases, inquire about dedicated desks positioned away from busy areas to meet your privacy needs effectively.
Storage Solutions: Check for arrangements to securely store your belongings overnight, such as lockers or pigeonholes. Adequate storage is crucial for professionals who require tools, equipment, or personal items. Ensure that the storage options provided are secure and suitable for your needs.
Booking Terms: Understand the booking policies, including the ability to extend or reduce your booking at short notice. Flexibility in booking terms can be crucial. Consider whether you can easily adjust your dedicated desk arrangement if your work requirements change, such as needing additional space during project peaks or reducing your commitment during slower periods.
Pros:
Amenities: Dedicated workspaces such as those at The Square offer amenities such as complimentary beverages, shared office equipment, and personal storage. Some even provide lifestyle benefits like gym access and tenant lounges. These amenities can enhance your work experience, making it more comfortable and enjoyable.
Dedicated Team Space: Team members can work at the same desk daily, eliminating the need to search for a spot and enhancing productivity. This consistent team space fosters a sense of belonging and teamwork, which can be particularly advantageous for collaborative projects and for companies that wish to have their employees spend the majority of their work week in the office.
Personalization: Professionals can personalize their dedicated desks, making them suitable for companies needing additional monitors or equipment. Personalization allows you to create an environment tailored to your specific work requirements, boosting efficiency and comfort.
Cons:
Increased Overheads: Dedicated desks tend to be more expensive than hot-desking, which may not be budget-friendly for cost-conscious companies. The higher cost is a consideration, especially for startups or small businesses.
Less Flexibility: Team members don't have the flexibility to choose workstations that suit their working style, as they are assigned to a fixed desk. This lack of flexibility can be a drawback, and it is worth considering whether dedicated desks are worth the investment based on how regularly team members are planning to be in the office.
Why Choose The Square for Your Dedicated Desk:
Prime Locations: The Square offers dedicated desk spaces in prime locations in Houston, Washington DC and Mexico City. These vibrant cities are hubs for innovation, business, and networking opportunities.
State-of-the-Art Facilities: Our dedicated desk memberships come equipped with state-of-the-art facilities and modern amenities. Enjoy high-speed internet, well-maintained meeting rooms, and comfortable communal areas.
Networking Events: Collaboration is key to success. That's why we host regular networking events, bringing together professionals from various industries to connect and exchange ideas.
Flexible Terms: We understand that your workspace needs may change over time. With flexible rental terms, you can easily scale up or down as your business evolves.
Professional Environment: The Square provides a professional and inspiring environment for individuals, startups, remote workers, and small businesses. Work alongside like-minded professionals in an office rental designed for productivity and growth.
In the ever-evolving landscape of workspaces, dedicated desks have emerged as a versatile and valuable solution for professionals seeking structure, community, and flexibility. Whether you're looking for a dedicated desk in Washington DC, Houston, or Mexico City, a dedicated desk at The Square offers a unique blend of comfort and convenience. By understanding your work style and considering the pros and cons, you can make an informed decision about whether a dedicated desk is the right choice for your business. Unlock new opportunities and collaborate with a dynamic business community by choosing a dedicated desk workspace that suits your needs. Explore the advantages of dedicated desk spaces at The Square and take your workspace to the next level.
Ready to take your workspace to the next level? Secure your Dedicated Desk Membership at The Square, join our vibrant community of professionals and experience all the benefits, including:
Your own private desk in a lockable office with 24/7 access.
Complimentary Printing Services - Unlimited black and white printing is included
Complimentary Beverages - All inclusive beverages and snacks
Mail & Package Handling
Complimentary Access to gym
Reserve your dedicated desk at the Square today!