February 24, 2022
Wow Clients With Flexible Office Space in Houston by Hines
When your clients are looking for executive office suites in Houston, you can count on Hines.
We provide offices for rent with all the services and amenities your clients could need or want — but it's no traditional office space we offer. Hines is delivering the latest in flexible workspaces (also known as flex office space, coworking, or serviced office space), a type of full-service workspace that's designed to give clients varying ways to work, and that can scale as they need.
A hybrid work model is the way of the future (and the present!), and Hines is proud to be a one-stop shop for all your clients' real estate needs. We offer the most-coveted features — including flexible lease terms, versatility, privacy, atmosphere, and first-rate corporate amenities — as well as highly desirable locations just steps from all the dynamic offerings of Downtown Houston.
Perhaps best of all? It's delivered by Hines, a brand you know and trust.
Grow your client relationships via our offices for rent in Houston
As a broker, you know it's imperative to build strong, lasting relationships with your clients, and we want to help facilitate that.
You can maintain your partnership with your clients as they grow within The Square's executive office suites in Houston, offering them the flexibility they need without compromising or being stuck in a lease that may not serve them long-term. Then, if they outgrow our space, they trust you can deliver on whatever their next venture requires.
Here's what it looks like to work with us:
The Square's Commission Structure

For the initial term up to 12 months (including month-to-month), you earn 10% of the total contract value on months 1-12.
For the initial term greater than 12 months, you earn the greater of either 10% of the total contract value on months 1-12, plus 2% of the total contract value on months 13-36, OR 5% of the total contract value.
For renewals, you earn 2% of the total contract value on all additional months.
For expansions, you earn 10% of the total contract value on growth within the location.
We pay 10% commissions on any deals our broker partners bring our way.
Get to know The Square, flexible office space by Hines
There are certainly a host of workspace offerings in Houston, but not all of them are in class A buildings in the highly walkable downtown district. In addition to the world-class services and amenities we offer in our offices for rent, we also boast unbeatable locations.
Our flexible office space at 717 Texas Avenue is nestled in Houston's vibrant north downtown, just steps away from historic Market Square Park and the best of the city's dining and retail options.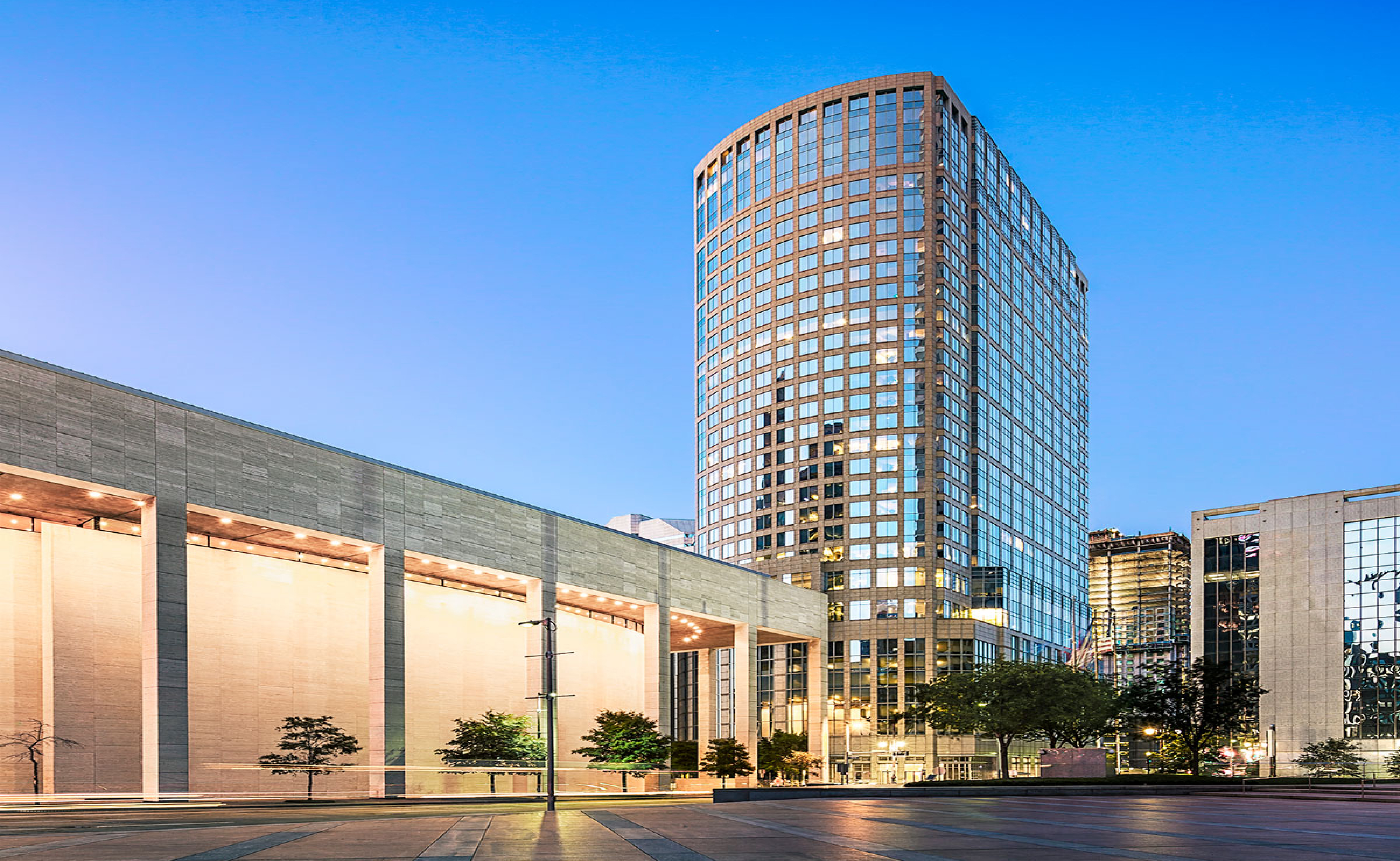 Texas Tower, also known as T2, is our newest location. This Class AA LEED®️ and WELL™️ certified workspace features multiple food and drink options, a full-featured fitness center, a dedicated library, a rooftop terrace, and more.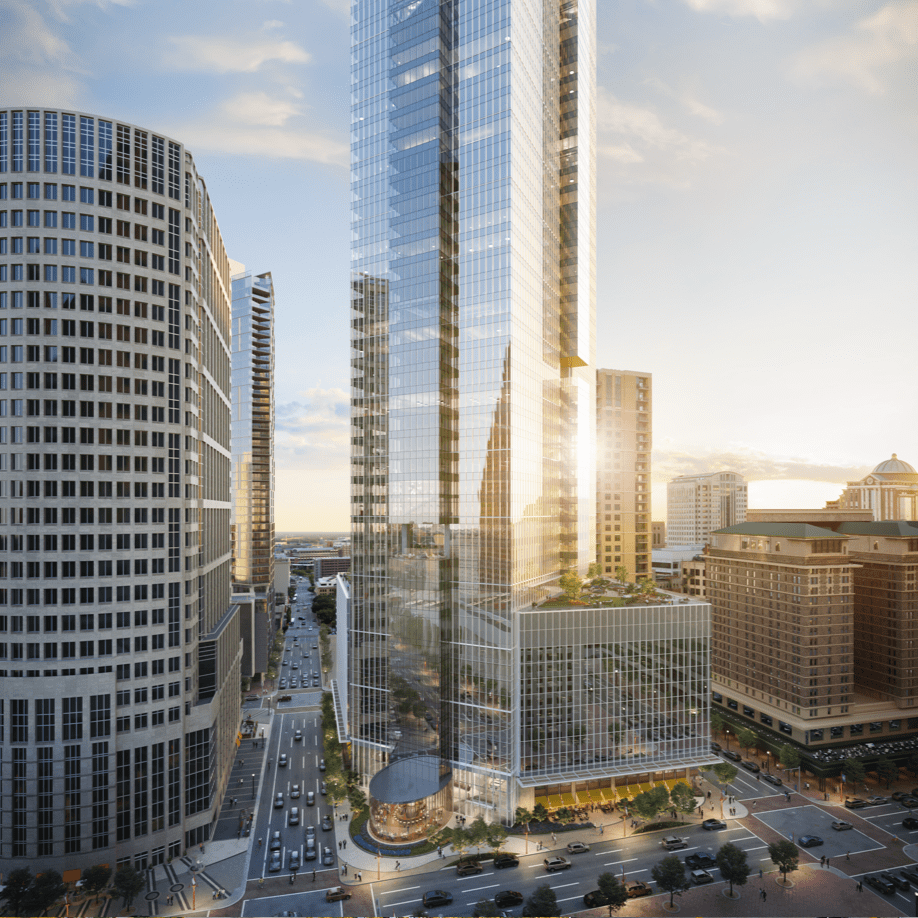 Whether your client is just one entrepreneur or a team of 25 looking to grow, we have fully-furnished spaces to suit their needs, from private offices and suites to customizable executive suites that feature access to private meeting rooms, amenity spaces, and kitchenettes.
Our membership packages offer the ability to scale up or down, providing clients the agility to book what they need when they need it: by the hour, day, week, or month.
The Square On-Demand

Square One: Perfect for individuals and small startups, this membership tier offers two office days per month, all-inclusive amenities, access to conference rooms, and additional hours on demand.
Square Plus: Twenty credits per month can be used by the hour or the day, and teams can choose from any office or meeting space across our portfolio.
Square Max: Forty credits per month can be used by the hour or by the day, and teams can choose from any office or meeting space across our portfolio.
And because we know not everyone works best at a traditional desk, we offer spaces like coffee and wellness rooms, outdoor workspaces, private phone booths, event space, and flexible meeting areas.
Don't worry— we've thought of everything. Other first-rate amenities include:
State-of-the-art technology
On-site parking
Bike storage
Unlimited printing
Mother's and wellness rooms
On-site support teams
Mail and package services
Daily breakfast, snacks, and local coffee
Enterprise-level network services
On-site dining
Executive office suites in Houston you can trust
Hines-managed properties are known for their exceptional quality, and The Square is no different. Our well-respected brand offers the security and high caliber your clients want, in Class A buildings stocked with everything they need.
We make it simple to knock your clients' socks off. Partnering with Hines for flexible office space is a win for both you and your clients.
Want to know more about partnering with The Square? Chat with us or book a tour.