November 10, 2021
Top 5 Neighborhoods in Houston for Office Space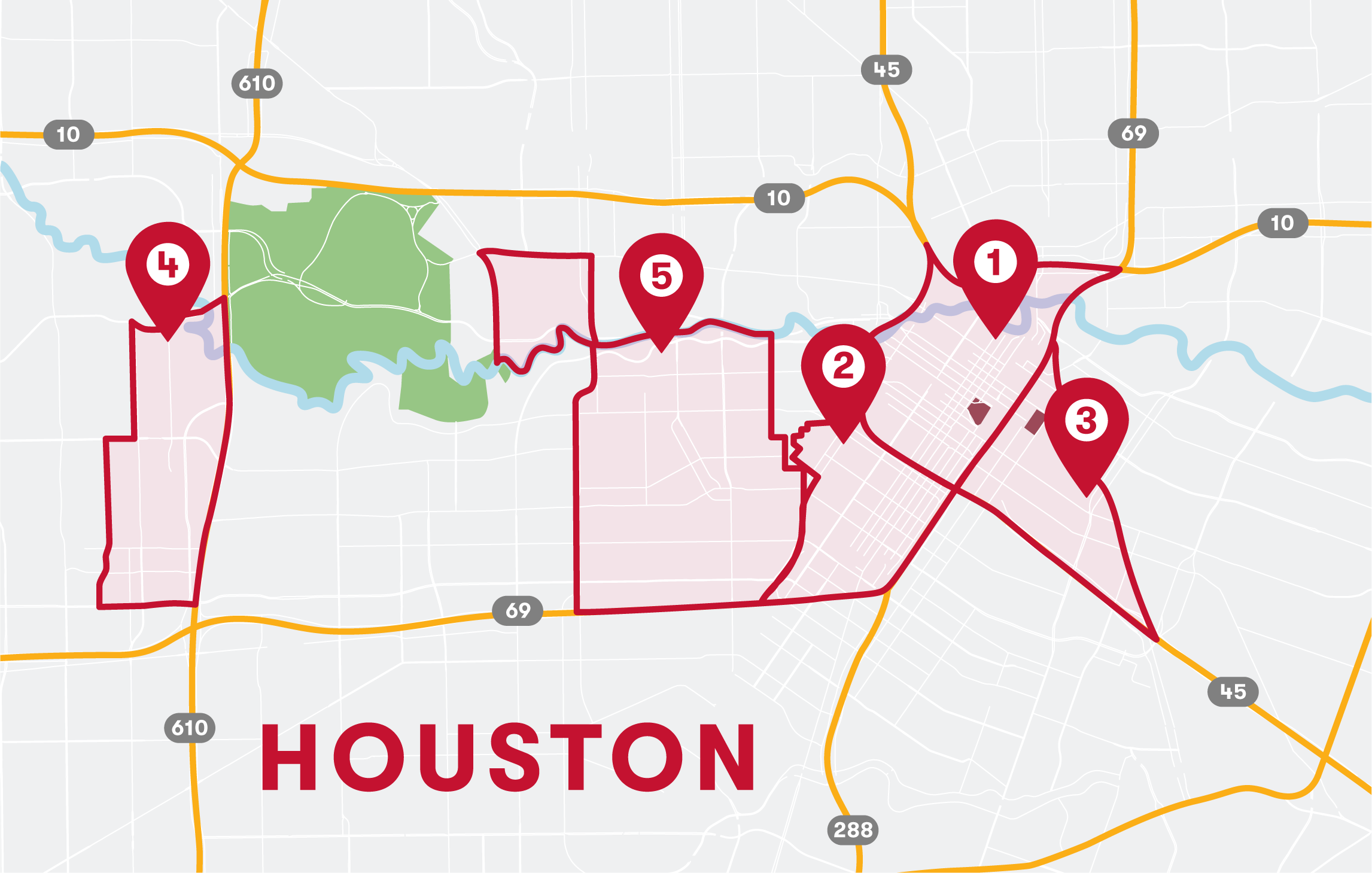 Houston is a big place.
In fact, it's the most populous city in Texas, the fourth-largest city in the U.S., and it's the ninth largest city in the country by area.
So, deciding on a location for your Houston private office can be a challenge. Every neighborhood has its pros and cons, and there are many factors to take into account: commute time, traffic, public transportation options, schools, dining options, the personality of the area, and more.
Ultimately, the locale you settle on will be a very personal choice — a place that suits your unique needs.
For some guidance on your Houston private office journey, we spoke with our resident expert at The Square, Trent, about the best spots in the city to set up shop.
Here, he offers his picks for the top five neighborhoods in Houston for office space, along with some important things to keep in mind when making your selection.
1. Downtown Houston
We'll admit, we're a bit biased when it comes to the first spot on our list. After all, it's where our first location at 717 Texas and our newest location at Texas Tower are located and where Hines is putting their new global HQ. Not everyone may agree today, but we feel strongly that Downtown Houston is up and coming and (is now or soon will be) the place to be.
Highly walkable — our offices have a walkability score of 95, in fact — the district has a long list of pros, not least that it's in a highly central location within the city. Of course, that means commonly encountering the dreaded T word: traffic. But when you rent flexible office space with The Square, one of our building perks is private parking. And, our on-demand offices and meeting spaces mean you can dip your toes into renting office space downtown without diving into a long-term lease.
PROS
Access to top rated buildings.

A desirable zip code (the famed 77002), which leaves a good impression on clients and potential business partners.

Wide variety of restaurants, bars, hotels and coffee shops. (Pro tip: The

Downtown Tunnels

offer great options when Houston's famously unpredictable weather acts up.)

Entertainment options galore, from ballet and performing arts centers, to sports and music venues, concert halls, and theaters. (Think: Head to Minute Maid Park to cheer on the Astros, catch a musical after work at Hobby Center, a Rockets game at the Toyota Center, or a symphony at Jones Hall.)

Stay active with easy access to fitness facilities, classes and a quick walk to Buffalo Bayou Park

A central location, with access to major highways (I-10, 69, and 45).

Great networking, as a lot of professionals favor this neighborhood.

Easy access to public transportation, including bus, rail, and city bikes.
CONS
Traffic.

Long commute if you live outside of the

loop.

Parking can be challenging if it's not provided.

Public transportation may not extend to where you live if you're in the suburbs.
2. Midtown
Although it has many similarities to Downtown Houston and is a popular spot in the city, Midtown is more the place you go after work for happy hours, late night bites and a night on the town.
PROS
Close access to Montrose, EaDo and Downtown Houston.

Good public transportation — the area is walking distance from the light rail.

Highly walkable, with an 86 walkability score.

More accessible parking.

Great food, bars, and nightlife.

Popular spot for business recruiting, as many young professionals live in Midtown.

Entertainment includes parks, nightlife, live music, comedy venues, museums, and even escape rooms.
CONS
Traffic.

Noise from nightlife.

The roads and sidewalks in Midtown aren't very pedestrian friendly

Less access to top tier buildings.
3. East Downtown (EaDo)
East Downtown, or EaDo, is an up-and-coming area near downtown. Home to the Houston Dynamo's BBVA Stadium, the fast-growing neighborhood has big projects planned for the next few years, including a 30-acre cap park, a 99,000-square-foot mixed-use space, and other infrastructure, development, and beautification projects.
PROS
Easier parking.

Laid-back bars, restaurants, and breweries.

Metro rail expansion means easy access to downtown. The area is also close to Texas Medical Center.

Highly walkable.

More affordable.

Overall relaxed, casual vibe.
CONS
Lots of construction since the area is still being developed.

Smaller buildings mean no access to top tier buildings.

Traffic and parking are congested during sports events.
4. Galleria / Uptown
The biggest pro about the Galleria / Uptown area? It's completely different than downtown. Because of your access to high profile restaurants and shopping and an easier commute out to Western suburbs.
PROS
Easier parking.

Abundance of stores for shopping lovers.

Great mix of casual, upscale, and high-end eateries.

Easy access to highways (the 610 loop and 69).

Closer access to Memorial Park, River Oaks and West U.

Locale of the iconic Williams Tower building and Gerald D. Hines Waterwall Park.
CONS
As in any city, traffic can still get bad.

Location isn't as central.

Many tasty restaurants are inside the Galleria mall, which can be challenging for quick lunch breaks.

Fewer after-work activity options.
5. Montrose & Rice Military
Although they're two different neighborhoods, we're grouping Montrose and Rice Military together on our list because the adjacent areas offer a lot in the way of culture, history, and personality. Lovingly considered "eccentric" by locals, Montrose is a hub for diversity, with everything from tattoo parlors and bars to world-class art galleries. Rice Military, meanwhile, has its roots as an army training area in World War I, before it was turned into an urban center by artists in the 1990s (don't miss the Beer Can House).
PROS
Chock-full of small businesses and mom-and-pop stores and eateries, in addition to entertainment like the museum district, Buffalo Bayou Park, the neighborhood bars, and Sawyer Yards.

Art and architecture hub, like Second Saturday at Sawyer Yards.

Less traffic.

Access to green spaces.

Laid-back vibe.

Popular for young professionals.

Close to many schools.
CONS
Less highway access.

Smaller buildings.

Can be expensive.

Not as walkable.
Conclusion
If you're looking for a Houston private office, you're sure to discover the perfect fit. With so many great neighborhoods to choose from, flexible office space is right within reach.
And at The Square, managed by Hines, we ensure you have flex office space options for everyone from a single person to an enterprise company. Whether you're looking for flexibility, a creative atmosphere, enhanced amenities, a change of pace, or agility on demand, The Square offers dynamic workspaces with both short- and long-term commitment options that suit your needs.
If you're looking for private office space in Houston, discover The Square by Hines. Contact us to book a tour.