August 5, 2022
Grow With Us: Energy and Environmental Law Firm Wright & Associates Expands with The Square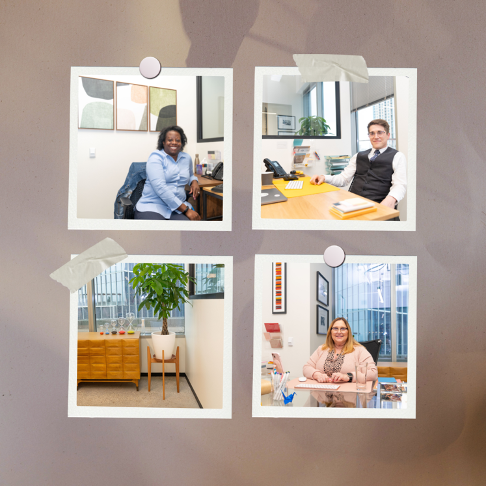 This is a story of exponential growth powered by The Square in Houston, Texas.
Meet Charlene Wright, managing member at Wright & Associates PLLC. Charlene was a partner at a large law firm for many years, but she frequently found herself dreaming about building something new—the kind of firm she'd always wanted to work for. As an inspiration for all of us dreamers, one day she decided to do just that, and Wright and Associates was born.
With the help of Senior Associate Alex Monetti, Charlene and her firm specialize in energy and environmental law, including regulatory, transactional and litigation. Charlene, Alex and their team partner with energy-industry clients to manage risk and continually improve. The team is truly great at what they do, and they're passionate about it, too.
Boutique, specialized, responsive and nimble, Wright and Associates has done everything from assisting clients with developing risk strategies and policies, to going offshore on an oil platform, to completing in-person environmental compliance audits, and both their client list and company have grown considerably over the past few years through mainly word-of-mouth from happy customers.
Enter The Square
Charlene and Alex came to The Square at 717 Texas Avenue in 2021. They had been working remotely for some time and were ready to get back in an office, but they wanted something new—a space that fit the style of their office and clients; a professional space that was inviting, stylish and in the heart of downtown.
In The Square, Charlene and Alex found a space that's warm, inviting and truly welcoming. Their team has seen improvements in productivity, as well as their quality of work-life balance. Even though Wright and Associates isn't a "large" company, they feel like they're part of something bigger at The Square—a caring, diverse community centered around supporting one another and helping each other succeed. Charlene loves to see people gathered around the coffee station or gourmet snacks in the afternoon, where you can hardly tell who works where, because everyone feels like family.
"The Square staff," Charlene says, "is like an extension of our team. It's like having a full front-office staff with the same vision. Operations-oriented, hospitality-driven and relational, they make sure everything runs smoothly, and that each and every member feels cared for and valued."
"We have everything we need here," Charlene said. "Great resources, fabulous amenities and a wonderful working environment, and we can't imagine leaving. I wouldn't have imagined it was possible before."
Growth and Expansion
Once a two-person team, Wright and Associates has grown to five members since they began working at The Square. As an energy and environmental law firm, it's important for each team member to have both privacy and plenty of space so their clients can feel safe and comfortable. So, when they expanded, The Square's flexible offerings provided the solutions they needed.
Charlene, Alex and their team added offices to accommodate the new members.
"Working with The Square staff to make this happen couldn't have been easier," she notes.
The unique space allows each of them the privacy and space they need with areas to collaborate. They spent a lot of time thinking about the look and feel of the space; they wanted it to be as welcoming as possible for both clients and team members.
Now that they've grown and changed, they have the ability to accommodate even more growth. The firm currently has a summer student intern, but their dedicated clerk's office allows for a permanent space for their law clerks to work from with easy access to the supervising attorneys.
Wright and Associates works with the University of Houston to recruit law students for opportunities to gain practical experience, and they look forward to welcoming another law clerk in the fall.
"The clerks enjoy the atmosphere at The Square as much as the attorneys," said Charlene.
For more information about The Square or to set up a tour — get in touch with us today.