October 24, 2023
"The Square at Texas Tower Artist Series" - Houston's Artists take center stage
This fall, we're excited to introduce The Square at Texas Tower Artist Series. Over the next three months, we are showcasing the work of three talented local artists: Leslie Gaworecki, Laura Aurealis, and Tati Sykes. Each Houston artist offers a unique creative perspective and artistic skill that we are thrilled to showcase in our hallways. Join us in discovering their distinctive works, which will be on display at our Texas Tower location from October through to the end of the year.
As part of this series, we also grabbed some time with each of our artists to learn more about their work. This month we spoke to Leslie Gaworecki, an abstract painter whose work is being showcased at Texas Tower this month -
Can you introduce yourself and tell us a little bit about your work?
My name is Leslie Gaworecki. I'm an abstract artist based here in Houston. I do mostly large-scale, brightly colored, abstract paintings.
What type of art do you create, and what mediums do you work with?
I work with acrylic paint and some mixed media (pencil, pastel). My paintings are attempts to capture the feeling of being in a place. They are driven by color and are often abstract landscapes.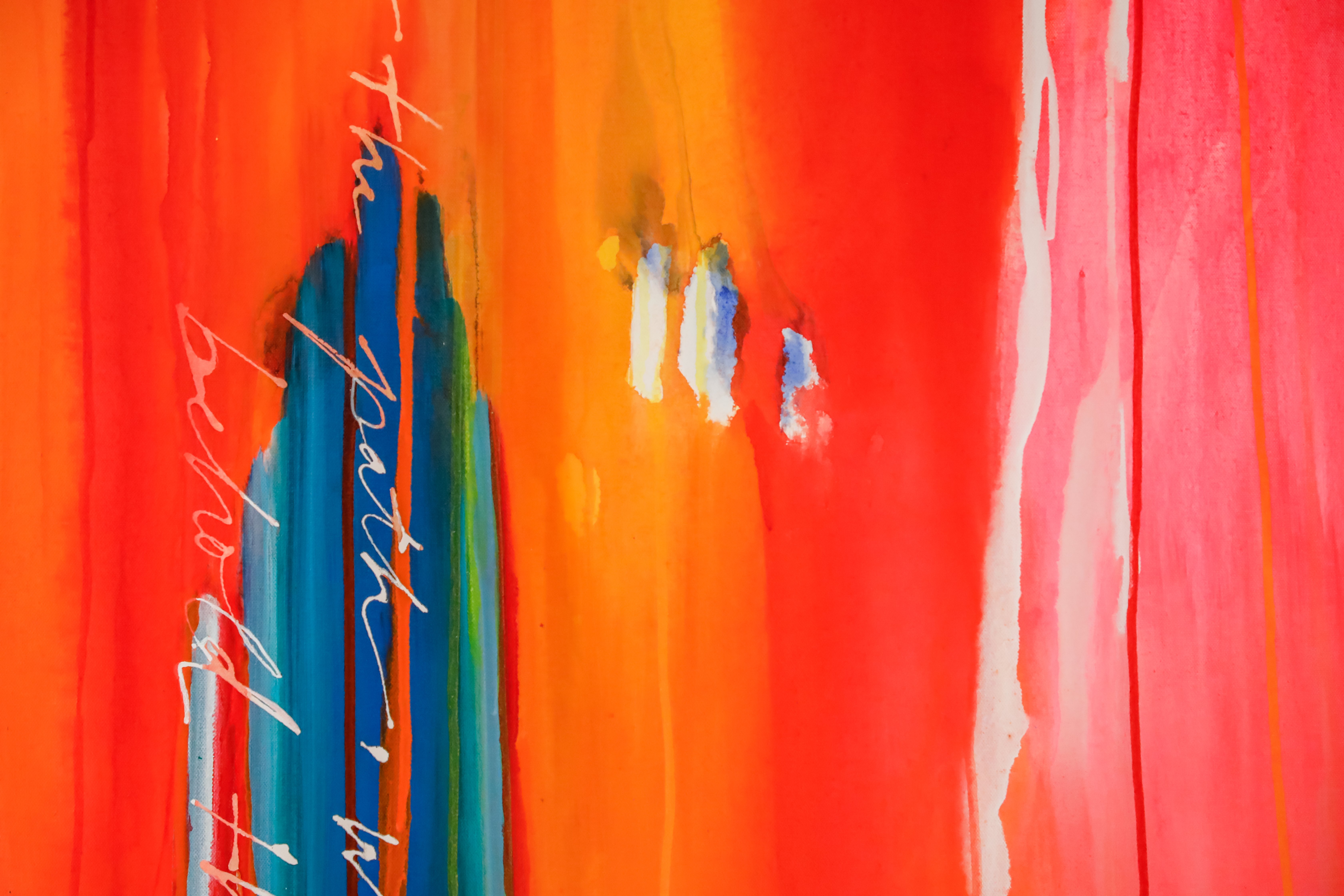 Leslie Gaworecki - "Phoenix Sighting" 2023 - Acrylic on Canvas
How does your art connect you to the Houston community?
My art life exists because the Houston community has been so supportive. My studio is in Sawyer Yards, an incredible community of local Houston artists. There I connected with artists who became friends, colleagues, and mentors, as well as local Houstonians who became champions and collectors of my work. I also teach workshops in my studio and give people a chance to make art in a way they might not at home without guidance or supplies.
Most recently the Mayor's Office of Cultural Affairs and HAA commissioned me and my fellow artist, Marlo Saucedo, to create new work for Houston's Intercontinental Airport. So Houston will also be home to my first piece of civic art that will welcome people as they arrive in Houston from other countries.
What do you love about Downtown Houston?
I love that I can find just about anything I'm looking for Downtown, including outdoor ice skating in the winter at Discovery Green. I love how much green space Houston is reclaiming Downtown. When you go to something like an outdoor movie in Market Square, you can have a small-town moment in this huge city.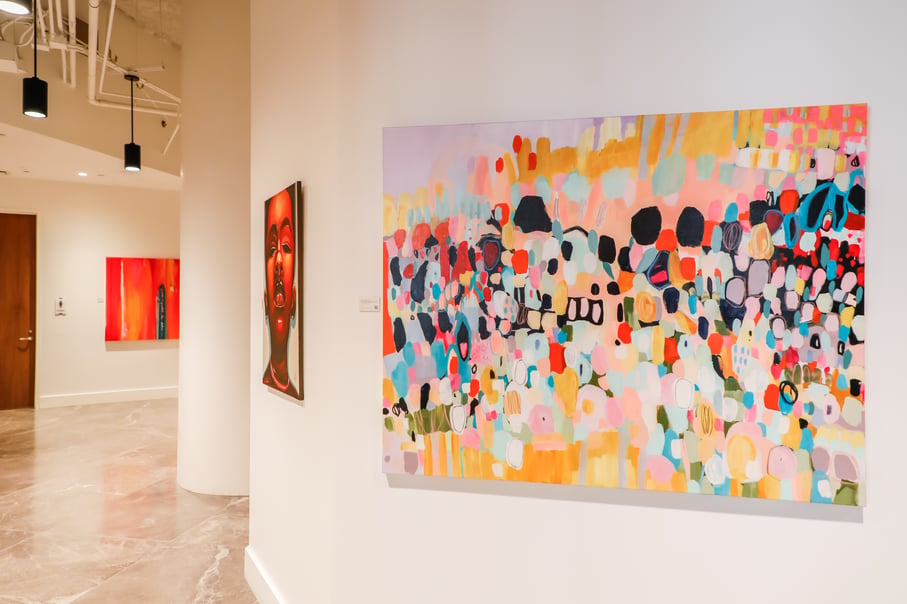 Leslie Gaworecki - "Everywhere, Everywhere" 2023 - Acrylic and Pastel on Canvas
What are your top 3 tips for anyone starting their own business or looking to turn their passion into a career?
The best advice I have to give is:
Just go for it. Working for yourself will require a leap of faith. So Leap!
Don't compare yourself or what you are doing to others. No one else knows what they are doing either. Trust yourself.
Just because you love your work doesn't mean you should work without rest and play. Watch out for burnout. Burning out will make you want to quit. Worse, it can make you dislike the craft you loved so much.
You can find out more about Leslie's work on her website and also on her Instagram. Her works can be viewed as part of our Artist Series at the Square Texas Tower until the end of this year.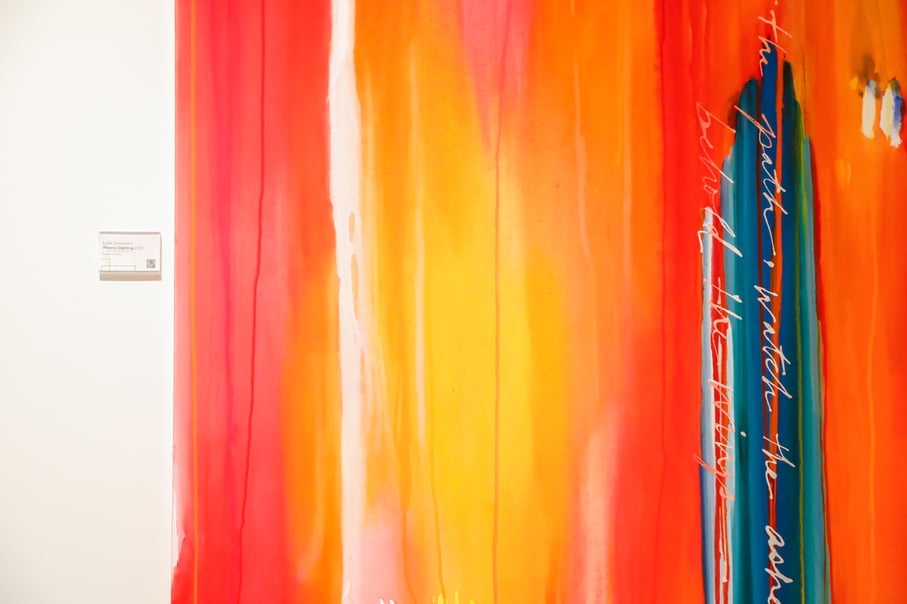 Leslie Gaworecki's work is on display at Texas Tower until the end of the year